"We will open the book. Its pages are blank. We are going to put words on them ourselves. The book is called Opportunity and its first chapter is New Year's Day."
―

Edith

Lovejoy Pierce
---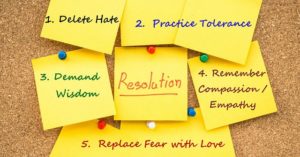 It becomes a tad stressful, as we grow older, to accept how fast time moves. How does that happen?  I try to wake up earlier, slow down, maybe take a nap. On days when I can't sleep and start my day early morning, the day still has wings. it's time for those New Year Resolutions.
As this year nears completion, I prepare a clean journal for the New Year. On the inside cover is a list of five to ten things I want to accomplish in 2018 and I keep them simple but attainable. Tasks as simple as spring cleaning, or as complex as painting the house go there, but only if I think they are achievable. I always tried goals such as to lose some astronomical number of weight, or quit smoking, but they never happened. So I quit writing these down.
HOW DO WE GET STARTED FOR 2018?
"Setting small, attainable goals throughout the year, instead of a singular, overwhelming goal on January 1 can help you reach whatever it is you strive for," says psychologist Lynn Bufka, PhD. http://www.apa.org/helpcenter/resolution.aspx.
I quit using the word, "intention". While I have always had the best of intentions, (didn't you?) they never materialized. Nothing other than berating myself with disappointment, guilt and little to no expectations gets accomplished. What's needed is a strong, solid word in its place.
I need a PROMISE to MYSELF!
Dr. Wayne Dyer has discussed over time how the process of allowing intentions to manifest is not about attracting what you want but attracting what you are.
In the Hua Hu Ching, written by Lao Tzu which hold unknown teachings of Lao Tzu. Number 51; Dr. Dyer says discusses that those who want to know the truth of the universe should practice four cardinal virtues.
One is reverence for all of life. This manifests as unconditional love and respect for oneself and all other beings.
Two is a natural sincerity: honesty, simplicity, and faithfulness.
Three is a gentleness, a kindness and consideration for others with sensitivity to spiritual truth.
Four is supportiveness: service to others without expectation of reward.
Dr. Dyer explains these four virtues as a frequency (of energy) that manifest itself through giving: allowing, offering and serving. I refer to this as a trusting of the process.
We may want to ask ourselves:
 Do we know who and what we are? If attracting a new behavior is not what we want but rather who we are then, who are we? Before we manifest anything, we need to have a knowing of what we are, for the highest good.
What would each one represent for us? Can you see yourself in this new behavior or physical transformation? Find a picture that might bring you to it and post one or more where you're reminded daily of this behavior-changing goal.
What are my motives and plan of action for each? Would you be doing this because it's what you want or someone else wants for you? The motivation can be different.
Progress Not Perfection: Treat yourself with loving kindness most of all. We are on top of berating ourselves but that just throws in the towel. Take it small, take it slow, and take it as the loving coach you are to yourself. YOU are your best advocate.
Behavioral changes take time. Make your resolve small, achievable and important enough to carry them out. But we need to allow for grace in whatever changes we make while staying the course.
Each New Year Eve, I light a candle in a quiet, meditative-induced surrounding and look at the above four cardinal virtues, while answering my own questions of how important are they, adding more of my own. I pray for their fulfillment and ask what am I missing?
Half-way through the year, I return to my journal to check off those that have manifest and examine whether the remaining are still as important as I thought they were six months earlier.  Adjustments may be needed to complete my year.
On our collective spiritual journeys of the heart this New Year, we open ourselves to possibilities by taking what we need and leaving the rest. I trust you will do the same.
I would so enjoy hearing what continues to work for you and what doesn't. Until then, thank you for reading me.